About
GENERATE

Thinking of joining a research project or establishing one of your own? We are keen to support you in various ways

– CALL FOR PAPERS –
No matter whether you are a Bachelor, Masters, or PhD student: we regularly issue Calls for Papers. Simply follow us on LinkedIn, Facebook, ZUniverse or send an e-mail to Julika.Montecinos@zu.de

– THESIS –
If you are thinking of writing your thesis, dissertation, regular article, book etc about topics connected to the Transcultural Caravan, we look forward to support you.

– RESEARCH PROJECT –
We would like to encourage you in implementing either your own individual research project or one in association with us. Zeppelin University's Humboldt year or Elinor-Ostrom project, for example, are perfect fits here. You can count on our support!

CONNECT

Always wanted to participate in worldwide dialogue on one of the most relevant topics of the 21st century? We can provide the required platform and facilitate meetings.

– ORGANISATION –
Whether you are a local enterprise, a globally engaged company or a non-profit organisation: get in touch with us. We are keen to work with partners like you – bridging theory and practice.

– UNIVERSITY –

We are looking forward to working with university departments from all over the world that are interested in topics of research related to ours, be it offering courses on transcultural management or empirical research projects on globalisation, urbanisation, organisational cultures etc. Contact us!

– RESEARCHERS –
We are establishing a platform where researchers from all over the world dealing with topics of the Transcultural Caravan can support and benefit from one another.

DEBATE

Looking for opportunities to share your findings or to learn more about the concept of transculturality? We organise lectures and arrange conferences as well as summer and winter schools.

– CONFERENCES –
We are keen to organise extraordinary conferences such as our Transcultural Leadership Summit! The idea is to further encourage the debate, to bring together academics and practitioners, and to inform. We see Friedrichshafen, a city in the heart of Europe, as a hub for people from all over the world to meet.

– LECTURES –
Our goal is to shape global leaders with a transcultural awareness and a global sense of belonging. One way we plan to do this is by offering winter schools and giving lectures, also in cooperation with our partners.

– PUBLICATIONS –
We see this website, particularly our blog, as the starting point of a dialogue that will be continued in the future. Furthermore, publications such as our "Transcultural Management Series" published by Metropolis serve the purpose of spreading ideas and theories to tackle the challenges of the 21st century.
The Transcultural Leadership Summit is an arena for exchange and transcultural learning, tackling questions of leadership and cooperation in times of global interconnectedness. Since 2016, this two-day conference has provided a platform for renowned experts from business, politics, civil society and the arts to share their experiences and engage in debate with students, young professionals and scientists from all over the world. The Summit is organised by a group of Zeppelin University students and chaired by Professor Josef Wieland, Director of the Leadership Excellence Institute Zeppelin | LEIZ and Founder of the Transcultural Caravan.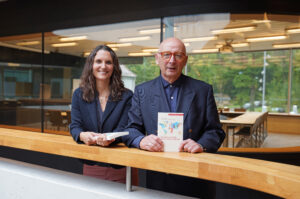 The Transcultural Management Series (TMS) published by Metropolis is one of the flagship projects of the Transcultural Caravan. Starting with the goal of generating and sharing knowledge about transculturality and capturing it in academic publications, this project has developed very successfully since 2016. It provides an arena for the publication of research results on transculturality by selected renowned researchers and students of the Global Studies Projects. At the same time, it serves as a sounding board for the empirical testing of the transcultural approach in the presentation of international case studies, evaluations of transcultural experiential learning formats and other field projects. Every year, academics, practitioners and students from all over the world are given the opportunity to deal with research questions in a transcultural way. The TMS is based on our conviction that transcultural research broadens the academic horizon, and we strive to deepen this approach even further in the future! If you are interested in contributing to our TMS, we would be happy to hear your ideas! New book out now!
You will find more information about the TMS on the publishers website.